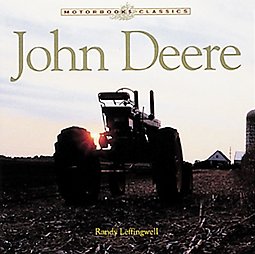 John Deere
Rating:
Stunning color photos, rare archival images, never-before-seen prototypes and styling drawings combine to recount the history of John Deere and... more
Rs. 1,043.19
Lowest Price From 2 Store(s)
TolMol Hot Deal
Home Theater System
Rs. 2,999
MRP: Rs 5,499
You Save Rs. 1,500
Featured Brands
Seller
Price
Buying Options
Infibeam
Rating
Review Seller
SMS 'tolmol' to 56070
Author

Leffingwell, Randy

Distributor(s)

Motorbooks

Edition

Paperback

Format

Paperback

Pages

192
Prices displayed in Indian Rupees (Rs). Conditions or additional fee/taxes may apply.
| | |
| --- | --- |
| Shopping Guides | |
| Shop By Top Brands | |
| Shoppers' Picks | |
© 2012 Avake
All information including prices, deals, promotions, coupons, hampers, products, film and movies, services and sellers, shop location, local car or bike dealers, store/seller addresses, company profiles, reviews, opinions and ratings on TolMol is provided by third parties and is for informational purposes only. TolMol does not represent or warrant the accuracy, authenticity or reliability of the information, and will not be liable for any errors, inaccuracies, omissions, or delays in this information or any losses, injuries, or damages arising from its display or use.